AAiT 2017 Graduation Committe (GC)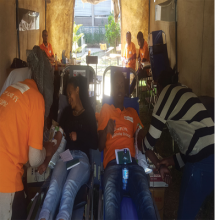 According to AAiT GC (Graduation Committe) 2017 , around 2000 students will graduate from Addis Ababa Institute of Technology (AAiT) in 2017/2009 academic year.
| School | No. of Sudents |
| --- | --- |
| School of Civil and Environmental Engineering | 800 Students |
| School of Electrical and Computer Engineering | 145 Students |
| School of Mechanical and Industrial Engineering | 60 Students |
| School of Chemical and Bio Engineering | 400 Students |
| Center of ITSC | 140 Students |
AAiT GC 2017 has done different tasks such as:
Educational trip
Designing Year Book
Folder publication
Hosting Techno exhibition
Hosting crazy days
GC cup
And events like GC photo program in which more than 1300 students participated
Educational trip
Many AAiT students have visited different places like Gelgel Gibe,Wellega, Grand Renaissance Dam, Bahir Dar and Gondar.
Blood Donation
The committee in collaboration with Drop of Life AAit group also took an initiation of blood donating. Accordingly, 400 students donated blood.
Donation for "koshe" victims
AAIT GC, in association with other AAU graduation committee contributes over 2.5 million birr for "koshe" victims. This was done by contributing 20 % of 1 month cost sharing and by dropping 3 days breakfast meal.