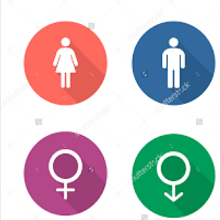 Addis Ababa Institute of Technology Gender Office
Overview
Gender Conception: Gender refers to the socially constructed roles and responsibilities of women and men, in a given culture or location. These roles are influenced by perceptions and expectations arising from cultural, political, environmental, economic, social and religious factors, as well as customs, laws, class, ethnicity and individual or institutional bias. Gender attitudes and behaviors are acquired and could be changed.
AAiT Gender Office has duties towards working on enhancing and supporting gender equality operations under the Managing Director Office. The Office is responsible for sensitizing gender equality among the Institute's community. It works to create an environment where no gender stereotype exists and where all females are fairly represented in all areas of the Institute's businesses at all levels of academic units. Currently, the office is led by a Gender Coordinator. The office has a direct working relationship with the gender office of Addis Ababa University.
We welcome all who are interested to join our office to combat gender inequality and support the success of our students.
Accountability: AAiT Gender Office is accountable to the Managing Director Office.
Mission:
Lead AAiT towards being an institution where both genders are fairly represented in all areas of its activities.
Duties and responsibilities
The Gender Office has duties and responsibilities to:
Develop gender standards to ensure that gender is considered in all relevant processes;
Support all offices in implementing gender standards;
Identify challenges faced by female students and staff of the Institute and provide or suggest solutions, taking into consideration the capacity of the office;
Mainstream gender in the teaching learning process, training and research activities of the Institute;
Create networks with other similar offices in higher education institutions for experience sharing and other collaborative initiatives;
Write proposals to raise funds for the Office to carry out different gender-related programs within the Institute;
Liaise with other governmental and non-governmental organizations to strengthen the capacity of the office;
Work on different gender-related issues raised by students and staff and report to the relevant offices, take appropriate actions and follow up on the progress;
Coordinate support provided to students by the Institute and other stakeholders;
Initiate and/or strengthen services to groups with special needs.

.
Major activities of the Office
Engaging in capacity building programs;
Developing gender-related policy/guidelines;
Coordinating different supports offered by AAiT, individuals and NGOs;
Creating awareness;
Honoring success;
Delivering services;
Networking and
Carrying out retention and remedial programs.
Current Coordinator and Office Contact:
Meaza Tadele
Campus: 5killo
Tel. +251-1 11810 21 58 (office)
Email: egender.office@aau.edu.et